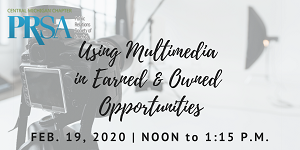 Tools for creating video and photos have never been more intuitive or easy to access, yet many organizations still struggle to find efficient ways to either create earned media opportunities with multimedia or meaningfully enhance traditional PR efforts. Ryan Gajewski, Director of Multimedia at Lambert & Co., Michigan's largest PR firm, shares examples and insights from his experiences, large and small.
About the Presenter:
Ryan Gajewski leads the multimedia team at Lambert & Co., producing well-crafted photo and video work in numerous spaces and industries. Additionally, Ryan provides strategy for digital media execution and implementation.
After growing up in Grand Rapids, Ryan moved to Phoenix, Arizona. There, he began a long journey of producing videos for numerous National Hockey League teams and eventually landed back in Michigan with the Detroit Red Wings. Ryan left the world of sports in 2014 to work for the Michigan Economic Development Corporation, which oversees the State of Michigan's marketing initiatives, including the popular Pure Michigan campaign.
While professionally molded in a video production space, Ryan has continued to acquire skills in other communication areas, including public relations, social media management and content marketing. He graduated from Grand Valley State University with a degree in film and video production.