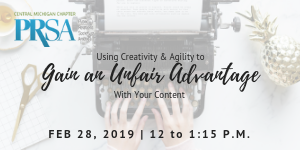 If you are using social media to advance your brand or yourself, there are two things you can use to give yourself an unfair advantage over your competition: your creativity and your agility. The social space gets more crowded every day. Channels like Facebook find more ways to disconnect you from your community continuously, and everybody has the same basic set of tools to work with.
The best way to make your content stand out in this over-crowded world is with creativity and agility. Anyone can do it. It just takes the right frame of mind and work.
Creativity: What can you do that's different from everyone in your niche? Figuring that out requires creative thinking. Not just in the words and graphics and content you create, but also in your strategies, your use of the various channels, the mix of them you use, your brand voice. Creative thinking in everything you do will set you apart.
Agility: Fast response is expected in social media, delivering beyond expectations is what gets you noticed. And it's not just responding to your community quickly. It's also responding to what's going on in the world around you quickly. And being able to change what you're doing quickly when it's not working or when a better opportunity comes along.
The Yaffe Group's Mike McClure will explain how combining the two concepts in your social media endeavors helps you build a winning combination. In this presentation, we will discuss some of the different ways you can be creative and agile in your social media planning and implementation. And you'll learn some simple things you can do to make your social media efforts shine with more creativity and agility.
About the Presenter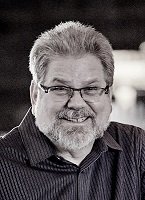 Mike McClure is senior vice president of Digital Communications and executive creative director at The Yaffe Group, based in Southfield. He is currently education chairperson of the Social Media Association of Michigan and former president of Social Media Club Detroit.
Mike is a writer, blogger and producer who has worked in every medium out there to market organizations in retail, education, healthcare, government agencies, non-profits, automotive, food and beverage and more. Follow him on Twitter.
NOT A MEMBER?
The Central Michigan chapter offers exciting opportunities for networking and professional development to public relations professionals in the greater Lansing area. With a membership of more than 150 area communicators, CMPRSA meetings are a place to always meet someone new, but establish valuable connections over time as well. A diverse membership of young and seasoned professionals, a stimulating mix of programs and opportunities for involvement make CMPRSA the ideal organization to invest your time and resources.