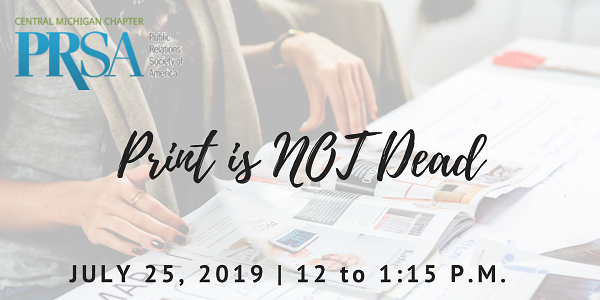 Print is alive and thriving, if done well. Nowadays, publications have a tall order, competing in mailboxes with the likes of Time, Sports Illustrated and other popular magazines. The key to standing out from the rest is creating eye-popping visuals that tell a compelling story.
Kathy Backus, founder of Backus Public Relations, Inc., will share tips and trade secrets acquired in 30-plus years of producing eye-catching print pieces for clients throughout mid-Michigan. Find out what it takes to create print materials that stop people in their tracks and win in the competition for attention.
About the Presenter
Established in the early '90s and led by Kathy Backus, Backus Public Relations, Inc. is a multi-faceted, boutique-style firm helping small to mid-size businesses and non-profit organizations tell their story in a way that captures attention and inspires an audience.
Kathy Backus is a 30-year veteran of marketing and communications. Serving as Chief Writer/Storyteller and Project Leader, Kathy works with a team of talented locals who are skilled in graphic design, photography, and videography.
Kathy earned a bachelor's degree in journalism with an emphasis in public relations from Central Michigan University. Her career started in publishing as Editor of Kmart Corporation's internal communications. Next, she established an internal public relations function for Valassis Communications, and then returned to Mt. Pleasant, Michigan to launch her own PR/marketing communications firm.
She has crafted stories as a freelance writer for daily newspapers and magazines in Detroit and throughout Michigan. Kathy combines the insatiable curiosity of a reporter, the precision of an editor and the creative vision of for reaching audiences.
NOT A MEMBER?
The Central Michigan chapter offers exciting opportunities for networking and professional development to public relations professionals in the greater Lansing area. With a membership of more than 150 area communicators, CMPRSA meetings are a place to always meet someone new, but establish valuable connections over time as well. A diverse membership of young and seasoned professionals, a stimulating mix of programs and opportunities for involvement make CMPRSA the ideal organization to invest your time and resources.