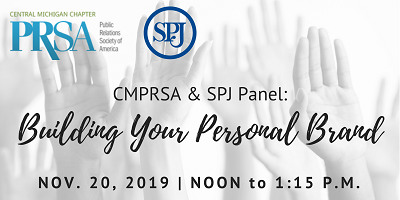 Who are you? Who knows it? Building your personal brand can help you stand out, connect with new people and establish yourself as an authority in your field. Join the Central Michigan Public Relations Society of America and the Society of Professional Journalists Mid-Michigan Pro Chapter to learn why your brand matters and how to begin building it from a panel of well-regarded pros.
This panel will be your opportunity to ask your questions and get tips and lessons learned from professionals whose reaches extend beyond our region due to their clear and confident personal brands. Take advantage of discounted pricing and a unique networking opportunity over lunch and dialogue with your mid Michigan peers.
About the Panelists:
Emily Lawler, MLive.com
Emily is the lead reporter for MLive.com's Public Interest Team, where she covers statewide office holders, state departments and political campaigns. Previously, she reported on similar issues and covered the Senate for MIRS. She lives in Lansing with her husband and bikes across the state for fun.
Twitter: @emilyjanelawler
Andrea Kerbuski, Martin Waymire
Andrea Kerbuski is a senior account executive at Martin Waymire and founder of fashion and lifestyle blog Blonde Bedhead. Andrea has been blogging for ten years, using it as a creative outlet to share personal style, home décor and travel while also using it as a tool for advancing her career in public relations.
Kelly Rossman-McKinney, APR & PRSA Fellow, Michigan Department of Attorney General
Kelly Rossman-McKinney is one of Michigan's best-known and most-accomplished communications experts. Founder of Rossman Martin, The Rossman Group and co-founder of Truscott Rossman, Kelly has been at the forefront of public relations in Michigan for more than 30 years. Under her leadership, her firms earned three different Silver Anvil Awards and numerous other awards at the local and regional levels. Kelly pioneered issue management in the Capitol and continues to pursue cutting edge work in the field across the state on behalf of one of the top elected officials in Michigan, Attorney General Dana Nessel.